NDS™ Adaptor Plus #0907 Order Form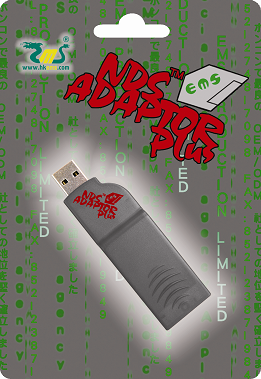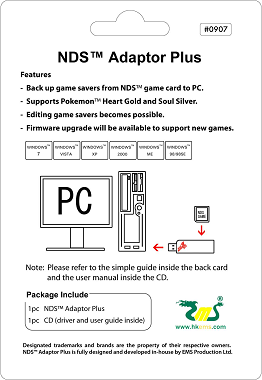 Package Includes Product size : 85mm X 14mm X 24mm
1pc #0907 NDS™ Adaptor Plus Package size : 110mm X 160mm
driver and user guide are provided Weight : 50g Net weight : 18.8g
¡@
Features:
- Back up game savers from NDS™/N3DS™ game card to PC.
- Supports
Pokemon™ Black and White 2
Pokemon™ Mystery Dungeon Explorers of Sky,
Pokemon™ Heart Gold and Soul Silver,
Pokemon™ Black and White
Pokemon™ Platinum
- Editing game savers becomes possible.
- Firmware upgrade will be available to support new games.
¡@
** For better compatibility to new games, it is recommended to
upgrade the firmware to the latest version before using this product.
¡@
¡@
¡@
Download programs and user manual here.
¡@
Enter NDS™ Game Savers Download Section.
¡@
¡@
Installation Guide in Japanese

¡@
Online Reviews of NDS Adaptor Series
¡@
This Is not a Nintendo™ official product
¡@
email : sales@hkems.com
¡@