#0205 EMS USB2 Q&A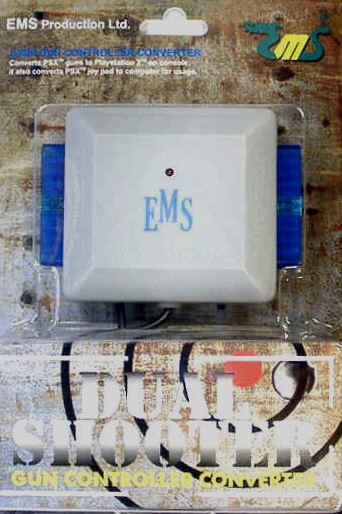 Q1. What is the #0205 EMS USB2?
A) #0205 EMS USB2 has two main functions:
1. To support two PS™/PS2™ joypads in PC simultaneously. Supports force feedback.
2. To support GunCon™ compatible Guns on PS2™/PS3™ console to play GunCon2™ compatible Gun shooting games.
(i.e. To support PS1™ guns on PS2™/PS3™ console to play PS2™ gun shooting games)

Q2. Why can't the #0205 EMS USB2 be used with the GUN CON 1 when using PS2?
A) Please check that the USB2 is properly connected to the PS2, the PC/PS switch on the USB2 is switched to PS and that GUN CON is connected to the USB2 number 2 plug.
* Installation diagram http://www.hkems.com/product/ps2/ps2-usb2.htm

Q3. How can the #0205 EMS USB2 be used on the PC?
A) After installation of the #0205 EMS USB2 program, PC/PS switch on the USB2 is switched to PC. Connect the USB to the PC. DOWNLOAD

Q4.Which USB port should I use on the PS2 when I use the #0205 EMS USB2 on the PS2?
A) Any one would be fine.

Q5. Can I use 2 guns on the #0205 EMS USB2 for 2 players?
A) No, because every USB2 can only use 1 gun. If you would like to play 2 players, you would need to buy 2 #0205 EMS USB2 and have them connected to the PS2 together.

Q6. Can the #0205 EMS USB2 support the original PS2 Joypad on PC?
A) Yes

Q7. How can I test if the #0205 EMS USB2 is working properly through the PC?
A) Using Win ME as an example: press [start]-->[settings]-->[control panel]-->[gaming options ]if it is working properly, there should be 4 axis16 button joystick existing in the [gaming options]. Choose one and press [properties], then you can try to connect the PS Joypad. If it is working properly, the PC will display the buttons chosen.

Q8: How can I turn off the unnecessary continuous vibration of the joypad?
A: If you can't turn off the force feedback from the game, please try to press analog and turn off analog mode.

Q9: I recently purchased the Dualshooter USB II. I am running windows XP and DirectX 9.0b. The driver installed fine but the device manager reports a "Device can not start (code 10)". Any suggestions?
A: When you get code10, try and pull out the USB2 from the USB port of the computer. Then re-insert it into another USB port of the computer. If that still doesn't help, pull out the USB2 from the USB port of the computer and reboot computer, then try again.

Q10: I have a problem with the EMS USB PS2 Controller Adapter. My computer runs on windows XP and supposedly there are no drivers required for the installation of this device, but my computer doesn't seem to know that. Basically, I plug in the device and the add hardware wizard comes up. I have tried everything within the add hardware wizard and nothing seems to work. I've even tried installing the drivers included on your web site, but still, it will not recognize the device. I've consulted my seller and they told me that Windows XP should install it as an HID gaming device it did not do that. So I tried installing it as an HID gaming device manually, but, just as always, I got the message that "there was an error during you installation". Did I somehow get a faulty device? Or is there something that I'm just not doing correctly?
A: Are you using other USB devices at the same time? If you are, please remove the other USB device first as it may conflict with the USB2. In the installation disk, usbpadzz.inf is the USB2 driver. After you have connected the USB2 to the computer, the computer will ask for installation driver, insert the installation disk. Then go to search for the best driver for your device---->specify a location--->A:\----->usbpadzz.inf and that's all. However, please check that you have switched the switch on the USB2 to PC or else you won't be able to install the driver. After you have successfully installed, you will see in control panel-->Gaming Options "4 axis 16 button joystick".
¡@
Q11 : I have installed the USB2 driver ver 2.2 already, but when I play the games such as NFS underground, metal gear solid and UEFA EURO 2004, why is it that the joypad signal is confused and keeps on vibrating?
A: After installation of the USB2 ver.2.2 driver, please follow the steps below to solve the problem::
I ) Select "Start" --> "Setting" --> "Control Pannel" --> "Gaming Options"
II) Select "4 axis 16 buttons gamepad" --> click "Property"
III) For the "Type" option, select "Auto", and for the "Mode Setting" option, select "Compatible"
IV) click "OK"
¡@
Q12: After I have installed the #0205 EMS USB2 driver V3.0, I find that the "House of the Dead 3" and also the games in MAME32 could not run properly. Is it a bug ? How could I fix it ?
A:Our engineers have tested the HOD3 and MAME32, and we find that those games have problem with the vibration setting. Please go to the "control panel" --> "game options", and set the vibration option of both joypad (even you have only connected one) to "ON". This problem would be solved.
Q13: Is #0205 EMS USB2 compatible with PS3™ ?
A: Yes, PS3™ games are supported, but PS3™ firmware must be updated. Besides, the switch "PC/GAME" should be set to "PC".
Q14: Does #0205 EMS USB2 support 64bit windows ? (7-10-09)
A: No. There is no 64bit driver for this product. If there are new driver updates, we would put it on the download page.
email:sales@hkems.com
This is not a Sony official product